The University of Miami offers the Joint Degree Program in Law (3+3), which allows qualified University of Miami undergraduate students with high academic ability to complete their bachelor's and Juris Doctor degrees in six years (3 years of undergraduate and 3 years of law school).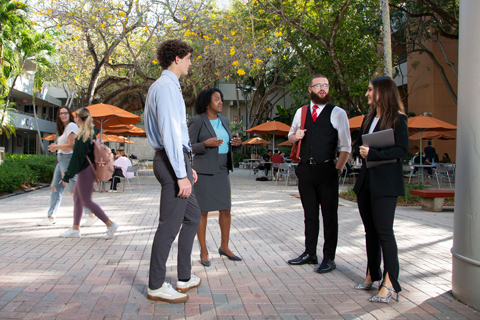 READ ARTICLE: 'Canes Jumpstart Legal Education with Accelerated Pre-Law Pathway Program
Program Requirements
3+3 students must successfully complete 90 credits earned toward their undergraduate degree, including requirements for their majors and any minors they may be undertaking. The University of Miami requires that the last 45 credits be taken in residence. Students will be conferred their bachelor's degree upon completion of 120 credits including AP/IB credit.  
Admission to law school is provisional until all requirements are satisfactorily met. To be considered for admission to the University of Miami School of Law, a student must submit the following by December 1 and meet all standards the law school admissions committee requires.
3+3 approval letter from undergraduate advisor
Overall cumulative grade point average of 3.5 in all college-level courses
Official LSAT score

In order to be competitive for merit-based scholarships, a strong LSAT is required.

JD flex application, which includes registration for the LSAC Credential Assembly Service (CAS)

An application fee waiver is available upon request.
Program Advantages
Time and Cost
Accelerated academic track (complete both bachelor's degree and law degree in just six years, which will save tuition costs)
Miami Law application fee waiver ($60)
Merit-based scholarship consideration for qualified applicants
Access
Special events and programs hosted by Miami Law
Special networking events
Opportunity to sit in on law classes
LSAT workshops
Program specific undergraduate advising
Program specific advising from Miami Law advisors
Community
Specific Facebook group for 3+3 students and advisors
Law student mentorship
Application Instructions
3+3 applicants are required to follow the same application guidelines as regular JD applicants. Application instructions are available here. To be considered for the 3+3 program, applicants must indicate so under the Joint Degree Program question in their law school application and upload the 3+3 approval letter from the undergraduate advisor.
Join the 3+3 Cohort
If you are interested in the 3+3 program, we encourage you to submit the inquiry form below as early as your freshman year of college at the University of Miami. The 3+3 cohort has access to special programming, one-on-one advising sessions, LSAT workshop presentations, and much more. 
Contact Information
If you would like to learn more about the program, please connect with the Office of Admissions.
Joseph Matthews
Director of Student Recruitment
School of Law - Suite F203
Phone: 305-284-6746
Email: jmatthews@law.miami.edu