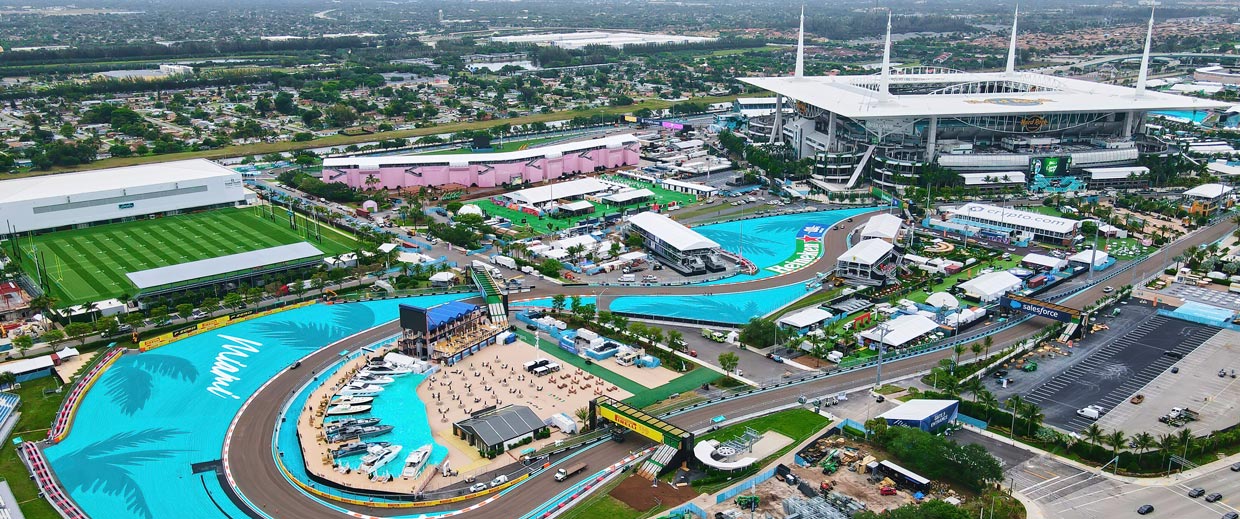 Miami and South Florida are home to all major professional sports franchises in baseball, football, basketball and hockey, and soon soccer. The city also hosts major events and championships each year. Top-rated tennis players come to the prestigious Miami Open, and since 1935 the city has hosted one of the largest college bowl games – The Orange Bowl.
Only 20 miles south of the law school is Homestead-Miami Speedway, one of the leading venues on the NASCAR circuit. There is also the Polo World Cup featuring international teams which is held on Miami Beach. All this enables students to have site visits with general counsels on site and access to opportunities for their practicum requirement.
International Study Option: Global Sports and Entertainment Law Course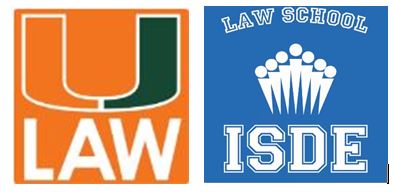 Offered in conjunction with the Madrid-based Instituto Superior de Derecho y Economía (ISDE), a leader in legal education, Miami Law offers a course for law students and professionals who are interested in broadening their understanding of the global sports and entertainment industries and provides an understanding of the differences and similarities between the U.S. and the international entertainment and sports law landscapes.
Leadership & Faculty
Track Directors
Peter Carfagna is a Co-Director of the Sports Law Track and is Chairman/CEO of Magis, LLC, a privately owned sports marketing, management and investment company, including family ownership of the Lake County Captains, Cleveland Indians Class A Affiliate. He also served as Chief Legal Officer & General Counsel of International Management Group (IMG) - world's premier and most diversified sports, entertainment and media company. Before that he was Senior Partner at Jones Day LLP where he worked as outside counsel to the Cleveland Browns and Cleveland Cavaliers' ownership groups.
Patricia White, Professor of Law, is a Co-Director of the Sports Law Track, served as tax advisor to the Economic Study Committee of Major League Baseball, and advises for the Sports Law track of the program. She has also served on the NCAA Compliance Committee for the University of Utah
Faculty
Kenneth Anand is the author and co-founder of SNEAKER LAW. He was Head of Business Development & General Counsel of YEEZY Apparel, a fashion and design company owned and operated by Kanye West.
Andrew Brandt is a nationally-recognized accomplished sports executive now bringing his credibility and unique insight and perspective to academia and the media and is is Professor of Practice and Executive Director of the Moorad Center for the Study of Sports Law at Villanova Law School.
Charles Baker is Co-Chair of O'Melveny's Sports Industry Group. Chuck's corporate practice encompasses mergers and acquisitions, private equity, and venture capital transactions, with a core focus in the sports, media and consumer sectors.
Jared Goldstein is author and co-founder of SNEAKER LAW. Goldstein teaches and regularly lectures at universities, law schools, and various organizations about the sneaker business. He is also Legal Counsel at LiveIntent, an ad-tech and marketing company.
Michael Kelly practiced antitrust law in the Washington, D.C. Office of MorganLewis for thirty years, where his antitrust clients included some of the world's leaders in the industries of professional sports, chemicals, pharmaceuticals, consumer electronics, and energy. 
Myles Pistorious is Senior Vice President and General Counsel at Miami Dolphins
Irwin Raij is a partner in O'Melveny's Entertainment, Sports & Media Practice Group and Co-Chair of the Sports Industry Group. Raij has extensive experience throughout the sports industry, representing buyers and sellers of professional sports teams, guiding stadium development projects, and negotiating licensing, advertising, and media rights agreements.
Adam J. Schlatner is a Member at Cozen O-Connor and an expert in complex commercial litigation. 
Steven ​Silton is a member at Cozen O'Connor LLP in Minneapolis and represents sports leagues, franchises, club owners and athletes and at Miami Law teaches "Representing a Professional Sports Franchise."
Marc Trestman is Head Coach, Toronto Argonauts
Daniel Wallach is Founder of Wallach, LLC. a law firm devoted exclusively to the burgeoning field of sports wagering and gaming law in the United States.
Sports Track Committee
The Sports Track Committee provides advice as it relates to curriculum, guest speakers and practicum opportunities students should be seeking based on industry trends. Members include:
Mason Ashe, Founder and CEO, Ashe Sports & Entertainment Consulting, Inc.
Charles Baker, Chair, O'Melveny's Sports Industry Group
Darren Heitner, Founder of Heitner Legal, P.L.L.C.
Michael Kelly, Retired Managing Partner Morgan Lewis
Kim Miale, NFL Agent and General Counsel at Roc Nation Sports
John Ruzich - Senior Vice President, Legends
Adam J. Schlatner, former Attorney, Cozen O'Connor